Black Frog News
The 102.9 House Band Search is on!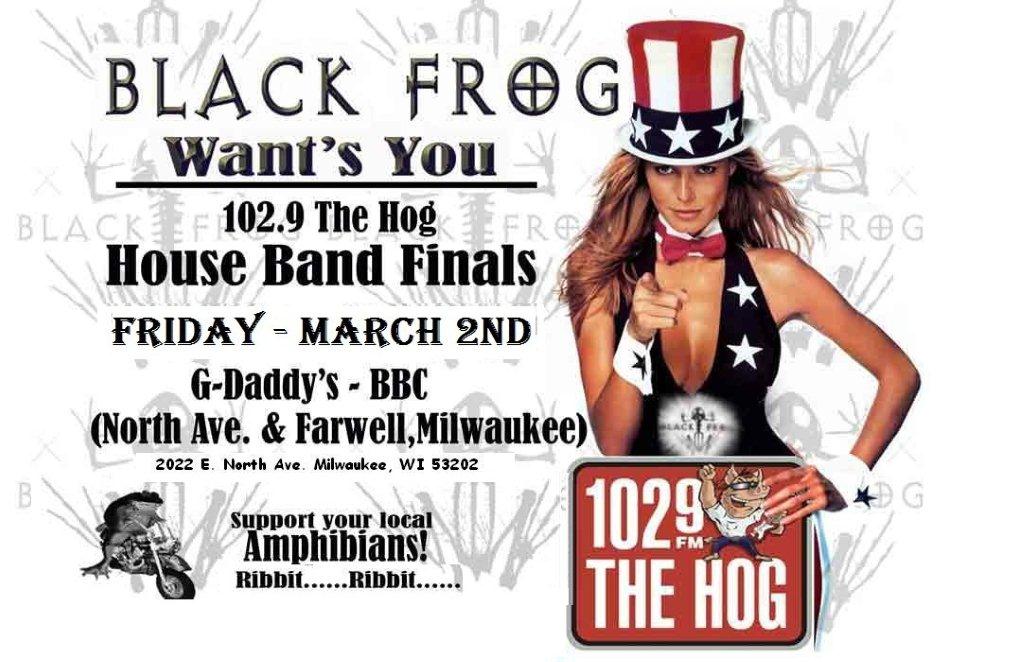 ---
Black Frog opening for Pat Travers March 24th!
Click HERE for tickets!
---
Romes writes in: "Seen them a couple of times at Earlville Iowa bike rally. They just plain kickass!! Enough said."
---
Maurizio writes in from ITALY!: :Uuuuu...thanks very thanks...i listen now, my compliment great sound, very rock biker... very very good music...rock-on !!"
---
Shooter writes in: "Have followed you guys for a long time you are the best band that has ever come out of Milwaukee. Seen you at bubbas' in Tomahawk. Road Runners bike blessings and at Mustang Shellys' you guys kick ass every time!"
---
Thornton Writes in: Ya'll are a great band. Seen ya here at the Patch for bike week. Awesome awesome awesome!!!!"
---
Roxy writes in: "HA! Found you!! I had the joy to see you boys perform in Sturgis '09 at Big Mikes campground!! You made the takin off my Tshirt for the wet Tshirt contest a blast :) If you ever make it up North into Western Canada, post it loud and clear!!"
---
10.4.10 Jillian writes in: "I was in Gresham when you were at Captains Cove a few weeks ago - you guys were AWESOME! .....my friends and I all got chills at the same time (that song) was so good."
---
9.21.10 Jock writes in: "You guys ROCKED saturday at Captains Cove, it was my first time seeing the band .....you tore it up!"
---
9.5.10 PartyGirl writes in: "Saw you at Summerfest and you guys were awesome!! Such great energy!"
---
8.27.10 Jenny writes in: "I seen the black frogs at lynch fest this last friday and it was the most kickass house band ive ever seen. You guys gotta fan for life!"
---
8.25.10 Bad Bob writes in: "you guys kick f***ing ASS. GOD BLESS FROM LACROSSE."
---
8.16.10 Jamie Writes in: "You guys Rock!!!! Wore out my CD. time for a new one!"
---
8.9.10 Dennis writes in: "Caught Black Frog at State Fair. Became a fan, good show, great music"
---
8.9.10 MWal writes in: "You guys are AWESOME!!!!!!! Saw you at State Fair and loved the show. Keep rockin'!"
---
8.9.10 Al writes in: "You were at the Iron Horse camp ground Sturgis Rally---You were the savior in my rally experience. Totally Rocked the house Thankyou for being awesome!!!!!!"
---
8.03.10 Shel writes in: "We saw Black Frog at Paperfest...we became addicted! Great band!!!"
---
7.79.10 Gary writes in: "you guys are Fricken Awesome, New Fan"
---
7.18.10 Adam writes in: "FANTASTIC show at Paperfest last night. You are amazingly talented and entertaining. Keep on Rockin'!!!!"
---
7.18.10 Tim writes in: "Great show at Paperfest. Need to get you boys further North more often!"
---
7.18.10 ManOfSteel writes in: "I just saw you guys at paperfest i thought you were awesome definately my style of music i like the way you guys put your own feel to the music."
---
6.14.10 Dustin writes in: "ive been listining to your cd and it rocks! you got a little bluegrass, country, and rock but im waiting for the "rock" cd. When is it coming out? You guys should be big, right up there with acdc. Tell me when your next cd is coming out and how can i get a t-shirt? I just got a bike and i'll follow you all the way."
---
5.2.10 Scott writes in: "Saw you guys this past Saturday at Hart Park for the first time and were impressed. Great show, funny and great music too. Keep up the great work"
---
5.2.10 Rick writes in: "Caught you at Hart Park. You ROCK!!! You've got new fans!"
---
5.2.10 MSG writes in: "Hey! Saw you today at the Rock and Run. You guys are awesome and we'll definitely come see you again."
---
4.18.10 Brenda writes in: "Being from Madison, I'm sorry to say didn't know who Black Frog was- I DO NOW!! They were great-looking forward to seeing them again!"
---
4.18.10 Roofman writes in: "Congratulations to Blackfrog, (Eroc, KK and Todd) awesome job on opening an explosive night"
---
4.18.10 Witness writes in: "....a BIG shout-out to our own hometown band Black Frog, the three of you were worthy of graceing that stage"
---
4.18.10 Deyo writes in: "where can i get a cd from you guys? you were f*cking amazing at acdc"
---
4.18.10 Carrotthead writes in: "i saw you guys open for AC/DC, that was some good sh*t"
---
4.16.10 AMJ writes in: "You guys rocked last night. How cool was that to open for AC/DC? Your redition of Sabbaths War Pigs was frickin' AWESOME!"
---
4.16.10 AINS writes in: "saw you guys live at the bradley center opening for ACDC. you guys are awsome."
---
4.16.10 Mark writes in: "I saw you open for AC/DC last night and was blown away. Great Job!"
---
4.16.10 Ryan writes in: "I saw Black Frog open for AC/DC last night at the Bradley Center. I enjoyed it a lot!"
---
4.6.10 Cassandra writes in: "I loved your music!!! Enjoyed seeing you guys @ Jerzees. Hope to see the band soon. Please add me to the e-mail list!!!"
---
3.23.10 We just got the call... Black Frog will be opening for the LEGENDS of rock- AC/DC!!! April 15th at the Bradley Center- can it get any cooler than that?!?
---
3.14.10 Spike writes in: "loved the song "a day without dope" @ bike week 08, we missed you in '09 but we were glad to hear about the little baby, saw you this yr '2010"
---
3.14.10 Geo writes in: "Caught you at the Cabbage Patch during bike week on a Friday nite. trying to remember how the song went with the return chorus of fuck-you. You really had the crowd, all of us. lET ME KNOW THE WORDS OF THE SONG AND NAME; IF YOU WILL!"
---
3.14.10 Pcan writes in: "Killer three piece band. Totaly enjoyed your music in Daytona again. Always make sure we are at the Cabbage Patch when you play. Keep it up!"
---
3.9.10 Kevin writes in: "Seen You @ Bike Week Daytona Beach, Florida- Rock On!!"
---
3.4.10 Stephanie writes in: "We saw ya'll at the Cabbage Patch at Daytona Bike Week 2010, our first experience and LOVED it!! Great job!!"

---
3.4.10 Phil writes in: "Hey FROGS great shows at the Cabbage Patch caught two of them, best music I heard all week."

---
11.30.09 Seen you guys in STURGIS this year, you guys f***'n rock. We were there for story time from one of you guys journal, (REAL FUNNY) just wanted to know if you guys are going to play in michigan. Muskegon summer celebration would be a sweet place for you guys to ROCK!

---
11.2.09 BLACK FROG has WON the 102.9 The Hog House Band contest!
THANK YOU to everyone that came out to vote and support the FROG!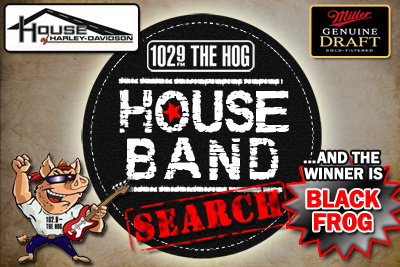 ---
11.2.09 Cara writes in: "Monkey song! Monkey song!Dear Black Frog, I<3 your music!"
---
11.2.09 tbetchel writes in: "Congratulations! You guys always put on a great show!"
---
11.2.09 djkyle writes in: "cant wait to party with you guys friday night at the rodeo bar in neenah!!!! will kind of be like Sturgis flashback!! just not as many cool people!! and a little colder!! lol"
---
11.1.09 Mark writes in: "CONGRATULATIONS on the Houseband contest win. You guys deserve it brother. You rocked Country USA, and my guys are still talking about your crew. They all send their best, and we will hopefully make a road trip soon. Take care, and ROCk on!"
---
10.28.09 Jennifer writes in: "Seen you at Moosefest, love the band."
---
10.25.09 Black Frog won their semi-final round of the 102.9 The Hog's House Band contest! Now we will need YOUR support and Vote for the final round on Oct 30th at BBC's in Milwaukee!
---
10.19.09 Softail03 writes in: "You guys are awesome!!!"
---
10.19.09 toodie writes in: "look forward 2 seeing u guys every year at bubbas u f*ckers rock"
---
10.13.09 Mike H. writes in: "You guy ROCK. You need to come and do a show in cedar rapids IA. We have a great live music bar that you guys would burn to the ground."
---
10.1.09 Black Frog is a finalist in 102.9 The HOG's "House Band" Search! We will need YOUR support and VOTE on Oct 23rd at BBC's in Milwaukee! Every person entering will get a ballot to vote for their favorite band- the more people we get in the door, the more votes we get to win! Come on out to help the FROG on Oct 23rd!!
---
Our EMAIL LIST was erased!!
If you were on the Email List, or want to be,
send an email with your address to:
mailinglist@blackfrogmusic.com

---
9.09.09 Another comment sent to us:

"You guys are awesome! We had the pleasure of seeing you perform at The Sidehack Saloon in Sturgis this year. WOW! Great show. Thank for recognizing and honoring our military. I have a son and neice and husband all in the military. A person does not fully realize what they give until you are affected personally by being involved. We have not had to experiance war deployment, but have a feeling it will probably be soon. You guys rock. Again thank you for supporting our troops."

---
6.29.09 One of the best emails we have received in a long time:

"Hello, My name is Danny ***** I saw you guys at Country USA on Thursday, and I want to say thank you. First of all you put on an amazing show. Second of all the song you played about the USA and talking about Eagle Scouts really made my day. I am an Eagle Scout and my Court of Honor for earning my Eagle Scout award is on Saturday June 27. I really appreciate it if I could get a signed picture or anything for that matter from you guys. I am a musician and hope to make it in country some day. That song really showed me that your guys dedication to music and the successes of the people around you is strong. I know you did not intend to, but I felt extremely honored hearing those lyrics about an Eagle Scout. If you would send even a letter I would be truly greatful. Thank you again-

Yours truly,
Eagle Scout Danny *****"

That is what it is all about right there........

---
6.20.09 Thanks to everyone who made the Iowa Romper Run such a big success and huge fun! Hopefully Ron will bring us back next year for another great event!
---
3.23.09 Black Frog will be playing at the Wisconsin State Fair this year! August 10th headlining the Bud Pavilion from 7pm- 11pm
---
3.10.09 Congratulations to KK's son, Kade Erdman-Kennelly for Placing 2nd Overall (receiving a Silver Medal) in the Arizona Boys State Gymnastics ages 12-13, Level 8
Kade took 1st Place in 3 events Including, Rings, Floor and the Vault. By taking 2nd place overall, this automatically qualifies Kade to represent the State of Arizona on the Southwest Regional All-star Team ..... way to go Kade !!


---
3.9.09 Black Frog is looking forward to another great year at Country USA! Check back for the finalized show schedule for some of the best showst of the year!
---
12.30.08 Here it is, the end of 2008, and what a year it has been! The best yet for the FROG. Thanks to all those who have come to see the shows, keep coming back, and spreading the word. We hope everyone has a safe and fun New Year! Looking forward to what 2009 may hold.......
---
9.25.08 It is with incredible sadness that Rose Klassen passed away today. Our friend and our mom.
---
9.15.08 What an fantastic weekend Tomahawk was! A little rainy weather couldn't keep the fun and rowdiness down. Two nights of fabulous shows and great crowds. Black Frog has already been asked to put Tomahawk 2009 on the calendar!
---
7.31.08 STURGIS IS HERE!! The Black Frog van is rolling out of town, heading for Sturgis TODAY! Hope to see all our old friends there- and make lots of new ones...
---
7.1.08 Black Frog will once again be opening for the national headliners both Friday and Saturday night of the Tomahawk Fall Ride.
---
7.1.08 Another great year at Country USA in Oshkosh! Great crowds, great fun. Even a little rain here and there couldn't keep the fun times from happening. Definitely one of the best events of the year for Black Frog.
---
1.3.08 Myrtle Beach is calling again!! Black Frog at Spring Bike Week! Full shows at the Broken Spoke Saloon and Suck Bang Blow! Check the schedule for dates and times.
---
9.12.07 Black Frog just got the call to fly to Myrtle Beach, SC to play for the Fall Bike Week at the Broken Spoke Saloon! First weekend in October. Check the schedule for full dates and times.
---
7.12.07 Finalized show times are up on the Schedule Page for STURGIS 2007!
---
4.30.07 Black Frog will be opening up for .38 Special at the Tomahawk Fall Ride on Saturday, Sept 15th!
---
4.25.07 Black Frog will be opening up for Jackyl in June at Austin's Saloon in Libertyville, IL!
---
4.23.07 Black Frog has been accepted into the Armed Forces Entertainment program! Entertaining U.S. troops would be a great honor for Black Frog, and now if the request comes in to go somewhere- the wheels are in motion!
---
1.16.07 Daytona Bike Week?!? Maybe! Black Frog is in negotiations right now for possible dates at Daytona Bike Week in March!
---
12.22.06 Black Frog is deeply honored to have been presented with an American Flag that has flown in Iraq! The Wisconsin National Guard 120th Field Artillery gave Black Frog the encased flag with certificate. "The flag of the United States Of America accompanying this certificate has proudly flown over Syverson Base, headquarters of the Combined Joint Special Operations Task Force- Arabian Penninusla in Balad, Iraq on June 22nd 2006. Presented to Black Frog in sincere appreciation ofr you support during operation Iraqi Freedom."
---
9.19.06 Black Frog made it back from the Tomahawk Rally with many more Black Frog fans now in the north! Two great nights of shows, playing with the Georgia Satellites and The Outlaws Band. The boys will be sure to be back next year for an even bigger turnout- this event is growing leaps and bounds each year.
---
8.28.06 The boys are back from Sturgis 2006 with 16 shows in 9 days under their belt, they have a well-deserved break during Labor Day weekend. Besides the van transmission breaking down, a small fire in the equipment trailer, Eroc's Harley breaking down, the trip to Sturgis was a smashing success! The Tomahawk Fall Ride Rally is coming quickly, and this year Black Frog will again be headlining the street dance on Friday night and opening for the national acts on Saturday night.
---
6.26.06 Black Frog will be opening for the legendary Marshall Tucker Band at the Windy City Motorcycle Festival August 31st!.
---
5.28.06 You can now see Eroc, KK, and Tommy doing ACOUSTIC performances every other Tuesday at MY PLACE, 304 N. 76th Street Milwaukee, WI.
---
5.4.06 Sturgis 2006 dates now posted on the Schedule!
---
3.28.06 Hog's Breath in Key West, FL may never be the same. Black Frog put its mark on the Hog's Breath with seven nights of high energy shows, and made new friends and fans from all over the world. The band made it back home- tired, hung over, and a bit beat up, but nothing that can keep a few Frogs down! During the week KK smashed his knuckle, Eroc wiped out on roller blades, and Todd had quite a crash on a bike that fell apart while he was riding it right in the middle of Duvall Street . But the show will go on, rub it, rub it.
---
3.18.06 Black Frog would like to extend a big congrats to Kade Erdman-Kennelly for his third place bronze finish in the Arizona Boys State Gymnastics competition!
---
3.8.06 Look out Key West, Florida- here comes Black Frog. A FULL WEEK (3/20-3/26) of shows at the Hog's Breath Saloon at the prime of spring break! You can watch the shows LIVE each night (10pm-2am Eastern Time) from the Hog's Breath WebCam. There's a Stage Cam and Raw Bar cam, the Stage Cam gives you a closer view of the stage, but the overall sound might be better from the Raw Bar Cam.
---
3.1.06 Congratulations to Todd for another NFAA Great Lakes Sectional win! This is the third year in a row that Todd has captured this title.
---
12.19.05 Black Frog is currenty recording new material for their *hopefull* spring/summer release of the DEBUT Black Frog CD!! It's been a long time coming, but it'll be well worth the wait!
---
12.12.05 Black Frog is happy to be involved in two more great RoadRunner's events in 2006! This will be the third year that the Frog will be playing at the annual Bike Blessing, and the first time playing at their October Biker's Ball.
---
10.2.05 What more perfect way to get into the fall season than with Milwaukee's best station, 102.9 THE HOG, Hal's Harley, Black Frog, and a pig roast party?!? Sunday, October 16th at Hal's Harley. Win a new Harley, meet Bob & Brian from 102.9, and party with the Hog and with the Frog!
---
9.19.05 Black Frog would like to thank Bubba for bringing us up to the Tomahawk Fall Ride, and thanks to all of Tomahawk for their warmth and hospitality. It is a great event that will surely keep growing each year!
---
8.13.05 What a week Sturgis was! Black Frog would like to that all those who came to the shows during the week in Sturgis, and thanks for the overwhelmingly positive comments. You have made sure that BLack Frog will be back to Sturgis again NEXT year!
---
8.2.05 The camping equipment is packed, the band gear is loaded, and the trailer is ready to roll to STURGIS! Black Frog heads west to the premier Harley event in the country for the week!
---
7.10.05 Check out the new VIDEO PAGE on the website! Also and updated Message Board with much better user interface. More video clips coming soon.........
---
6.15.05 Mark down New Year's Eve on the calendar! Black Frog will be tearing up Mustang Shelly's Roadhouse on December 31st and starting off 2006 with a party!
---
6.13.05 The time has been finalized for Black Frog to play at Summerfest!
---
5.17.05 Black Frog will be teaming up with the Joe Santana & The Motley Jackson Band on July 29th for a bike night at SPITFIRES in Muskego, WI.
---
5.02.05 Looks like Black Frog will be opening up for FOGHAT at the Tomahawk fall ride! Stay tuned for details and times.........
---
4.15.05 You can see Black Frog across the U.S. on July 1st! Chicago's WGN Channel 9, one of the most widely carried channels on cable networks across the nation, will be having Black Frog appear on their morning show. The next day, Black Frog will be playing at the world-famous CUBBY BEAR NORTH in Lincolnshire IL!
---
3.23.05 Black Frog going to Sturgis?!? That's right! Black Frog will be playing at the premier Harley event in the country the week of Aug 6-13! Final dates and locations coming soon.....
---
3.22.05 Harbor Fest in Racine will be having Black Frog play this June! This is a great music festival on the lake, like a mini Summerfest!
---
2.20.05 Congratulations to Todd for being the 2005 NFAA Great Lakes Indoor Sectional Archery champion, and for the 2nd year in a row! Todd shot a perfect game on the first day of the two-day tournament and not quite as good on the second day- opening the door for the fierce competitors to even the combined two-day score. And that's exactly what happened. After two days of shooting, Todd and one other archer were tied for first place. It came down to 10 sudden-death arrows to determine the winner. Todd place 9 out of 10 arrows in the bullseye, and the other archer landed 8 out of 10!
---
2.2.05 The annual BIKE BLESSING held at Veteran's Park (Oak Creek, WI) will be having Black Frog play again this year! The date is May 1st, and we are all crossing our fingers hoping for a warm spring day!
---
12.3.04 Black Frog is back in the studio recording some new material! The next few months should have some new MP3 clips on the audio page, and also some new VIDEO clips coming soon from the filming in Arizona. Also you may have noticed that we have added the "Warning" marquee to the main page for this website for those that may be easily offended.......
---
9.18.04 Black Frog has just finished up filming in Arizona for three upcoming videos for the songs, "The Wind", "Save The Children", and "Sometimes I Want To Run". The band and crew overcame seemingly insurmountable obstacles to make things happen, keep things on schedule, and to complete the filming. Wait until you see the footage from the helicopter of Black Frog playing at sunrise on the edge of a 700ft cliff! That involved getting up at 2am and hiking up a mountainside with all the gear and a full drumset in the dark. The helicopter pilot was outstanding and also has credits to his name as the film "Independance Day", the TV show "Las Vegas", and 16 national Honda commercials. Check out the PHOTOS page for some peeks of the filming.
---
9.01.04 Some have noticed an absence of shows scheduled in the middle of September. This is because Black Frog is heading to Sedona, Arizona to do some video shoots!
---
8.04.04 Black Frog will be playing with the Booze Brothers at the Harley Homecoming at the Great Lakes Dragaway on August 28th!
---
7.13.04 Congratulations to Todd for placing 2nd in the WFAA Wisconsin State Outdoor Field Archery Tournament.
---
6.25.04 It was the coolest opening day temperature for Summerfest in the last 30 years, but Black Frog had a blast, made lots of new friends, and kept all the people waiting in line to get into the Ampitheater very happy.....
---
6.9.04 Let's all hope for a speedy healing process for KK who had a little "mishap" during this week and ended up with a cast on his left leg up to his hip. Now he has to wait several weeks to get the cast off before he can be jumping around, head-banging on the stage again.
---
Black Frog is mentioned in the Milwaukee Journal, read it HERE.
---
5.29.04 We are trying to obtain a copy of the WMSE 91.7FM radio interview and performance. When we get it, we'll post a MP3 copy of it here on the website for people to listen to that weren't able to tune in when it ran live. (Edit: Now available on the MP3 Audio page) Thank you WMSE!
---
5.23.04 WMSE (91.7FM) will be having Black Frog play live in the broadcast studio Friday, May 28th at approximately 4pm for their DVD release party later that night.
---
5.20.04 Black Frog had an article in the May 20th edition of The Sheboygan Press. Read it HERE.
---
5.17.04 Get ready for the Black Frog DVD release party at the Up & Under Pub on Friday, May 28th! The band will be doing a radio interview and live performance earlier in the day on WMSE 91.7FM, and then later that evening teaming up with some of the best Milwaukee live music talent to put on a great show. Fat Bottom Special and Two Probers will also be performing throughout the night with Black Frog for a truly unique and entertainment-filled evening. Don't miss this! Tickets are $10 in advance with limited capacity, and that will also get you a copy of the Black Frog DVD and a raffle ticket for numerous prize drawings all night. Stop in at the Up & Under Pub to pick up your tickets before they are gone!
---
5.4.04 The Milwaukee Firehouse Pub is putting on a kickass outdoor party!
Sunday, May 30th
Black Frog will be playing with some other great entertainment- Robert Allen Jr. and No Strings Attached. For more information on this, call 414-272-3473
---
4.20.04 The annual Harley Milwaukee Rally is coming!
www.MilwaukeeRally.com
Black Frog will be playing Aug 1st for this great Harley event.
---
4.11.04 Black Frog has been scheduled for the Milwaukee River Splash celebration on June 5th downtown on Water Street. Water Street is closed off for this event and the music stages are out in the streets for all to enjoy!
---
4.09.04 What a crazy day it was at Miller Park for Opening Day of the Milwaukee Brewers! If you were there, you know what we mean.... "Black Frog incites riot..."
---
4.02.04 The yearly official Harley sign of the spring riding season, the "Blessing Of The Bikes", will be having Black Frog play for the post-blessing celebration at Veteran's Park in Oak Creek Wisconsin on May 2nd!
---
3.27.04 Black Frog will be playing at MILLER PARK for Opening Day of the Milwaukee Brewers on April 9th! Teaming up with one of our favorite bars, SPITFIRE'S of Muskego and Rock102.1, Black Frog will be entertaining baseball fans for the best pre-game party at the park!
---
3.16.04 Filming went great last night for the Plugged In Show w/ Kevin Sucher! Look for the broadcast of the show on Warner Digital Cable on Friday, 3/19/04 at 9am. Channel 1111 for Wisconsin On Demand (WiOD). A few pictures of the event are posted on the PHOTOS page.
---
3.12.04 Black Frog will be filming a cable tv video broadcast in Milwaukee on Monday, March 15th! The band will be performing five songs at the Warner Cable studios for the "Plugged In Show w/ Kevin Sucher" in front of a live studio audience for later broadcast.
---
2.29.04 And yet another, congratulations to Todd for capturing the NFAA Great Lakes Sectional Championship title this past weekend.
---
2.25.04 Black Frog has been busy shooting video for an upcoming video DVD press kit as well as a full-length video for the song, "Who I Am". We should have video clips on the website soon. Hopefully. ;-)
---
2.16.04 Congratulations to Todd for being the WFAA Wisconsin State Indoor Field Archery Champion! He won the Adult Male Freestyle Championship this past weekend.
---
12.3.03 Black Frog will be helping out with a benefit show on December 14th at the 6 Points Pub to purchase a tombstone for our good friend Henry who has left us. Live music from 4-11pm featuring Bone Deluxe and many other acts. Black Frog will play a full set at around 8pm. Come help out a great cause!
---
11.10.03 Black Frog at the Milwaukee Ale House! Three shows have been scheduled for appearances at the Ale House in the upcoming months.
---
9.1.03 The Harley 100th is now history! Everyone had a GREAT time and it was very cool to meet people from all around the country, and from all around the world that came to celebrate in Milwaukee. Some pictures are posted on the Photos page, and more are coming in the next week or so. Many thanks to all who made this event possible at the Rider's Ranch and at the Broken Spoke Saloon!
---
8.15.03 Ok! The new "final" show times for the Harley-Fest have been solidified. Check the Black Frog Schedule page for the show times.
---
7.28.03 On Saturday Aug 9th, Black Frog will be teaming up with 95.1FM WIIL for their "Saturday Night Live" music event from Hoser's Curve Inn (485 South Jefferson (Hwy W) Waterford, Wi). The station will be broadcasting from the bar from 8-10pm, and Black Frog will be performing from 10pm-2am. Don't miss this great event!
---
7.25.03 Black Frog is proud to let everyone know that they will be performing for the Harley 100th Anniversary celebration!! The "Riders-Ranch" (www.riders-ranch.com) will be set up at the Waukesha County Fairgrounds, and this is the official campground and "tent-city" for the thousands of bikers that are coming from around the country (and around the world) to this event. 100 acres of tents, exhibitors, booths, party, and craziness! Inside the Expo center at the fairgrounds will be a version of the world-famous "Broken Spoke Saloon" for the Harley week. Official start times have not yet been finalized, but once they are known they will immediately be posted. As of now Black Frog is slated for late afternoon on Monday, Tuesday, and Friday (Aug 25th, 26th, and 29th) of the festivities.
---
Check back for news about the band
---
---